I certainly didn't till now. Check out the web of the Linux Foundation. I think it is very important to have so many people defining Linux standards. To fix and address standards is crucial for the quality of software in my opinion. I got this site looking for drivers for my grandpa's new printer. OpenPrinting is one of the nice workgroups within the Linux Foundation. I took the "HP Deskjet F4100" driver and it worked fine for his F4180. Just take the ppd file and copy it to /usr/share/cups/model/hpijs/HP/.
A geek who doesn't care/think of the end user won't ever develop professional applications.
When I got the problem in my hand because of typing too much, I made the decision of taking care of my hands.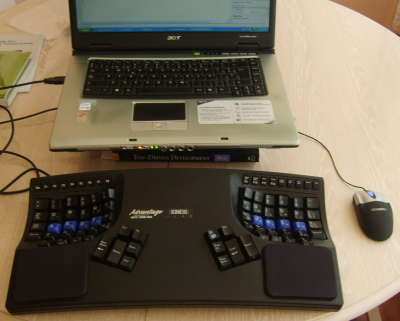 My new ergonomic keyboard is very confortable, and has QWERTY and DVORAK layouts. I plan to learn
the DVORAK layout to reduce the efforts my hands have to do and increase the speed. This Kinesis keyboard is highly recommendable 🙂
The bad thing is the cost of the shipment as I had to order it from the US. Next time I'll ask for regular shipment rather than UPS which is really expensive.
(See the keys with QWERTY and DVORAK chars in the photo). It works fine on Linux as well.