Un rato sentado, un rato de pié
O "de pies" que dirían en Madrid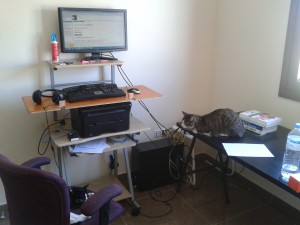 Hace años me lesioné la espalda por ignorante. Y claro, todos los días haciendo horas sentado delante de la máquina aumentan el dolor de espalda considerablemente. Puedes hacer natación, pilates (muy bueno!), puedes ir al quiropráctico, al fisioterapeuta, y...  también puedes trabajar de pie a ratos! @EtnasSoft me dijo el otro día que ya lo estaba haciendo también por problemas de espalda y que era muy recomendable. Así que lo he probado y estoy encantado!
Tengo dos mesas como se ve en la foto. Cuando me cambio de una a la otra, muevo la pantalla el teclado y el ratón. Un movimiento de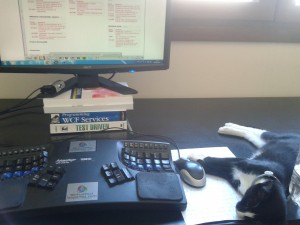 milisegundos.
A mis compañeros de pair programming les encanta, porque cuando me pongo en pie aprovechan para quitarme la silla enseguida

Mas o menos cada 3 pomodoros me cambio de posicion. #recomendado!

Enjoyed reading this post?
Subscribe to the
RSS feed
and have all new posts delivered straight to you.