Acabo de terminar la traducción de éste excelente ensayo de Martin Fowler. Quizás sea la primera de una serie de traducciones pensadas para acercar buena literatura inglesa sobre software a hispano hablantes que de otra manera jamás leerán tales artículos. Cualquier feedback sobre si os parece interesante la traducción o comentarios son bienvenidos.
Aquí lo teneis: http://carlosble.com/traducciones/mocksArentStubs.html
Dos años escribiendo este blog!. This month is the second birthday of this blog. Time flies. Having a technical blog is being very positive as it is a place to store information that I might need later. It helps people sometimes, is good for my CV and it has helped me to get a job too. Writing in english is a challenge because here in Spain I don't talk in english so I forget many things and I get to lots of doubts. I make lots of mistakes by the way. The stats says that my readers are mainly english speaking people so it is worthwhile to write in this language although colleagues over here complain about that. .Net and C# is the topic people read the most. WordPress stats says that there are between 20 and 90 readers everyday.
Some stats:
Top Posts
WPF TreeView, 663 views
Samba, dominios, impresoras y políticas con Windows XP, 349 views
Could not load type X from assembly Y, 313 views
Top Searches
could not load type from assembly, wpf treeview, TreeView WPF
User Interface Design for Programmer is a masterpiece written by Joel Spolsky in 2001. Although might be considered old, it is still absolutely useful and great. Some chapters are available online. I'd recommend this book to any software developer and also to advanced users because it is not technical, it is just a lot of common sense driven by example. This book is ideal for QA engineers and other people who review applications. Every paragraph is interesting.
Thanks for this book Joel, it is really good indeed. Thanks to Eladio for the gift 😉
Awesome news! Hamilton Verissimo is joining Microsoft. These are just great news because another great open source developer is joining the Redmon company. The CastleProject should be mature enough to survive without Hammett although he says he can still work on it. Best luck mate, congratulations.
I hope Microsoft develop more open source projects like IronPython and the super hackers they are hiring leverage the company with the open source spirit.
By the way, regards to my colleagues Atilla and Ben who joined MS last year in Dublin 🙂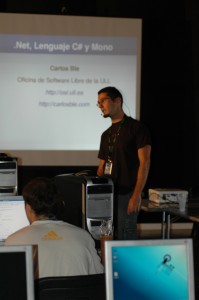 Al final resultó que hubieron 10 asistentes y con un nivel muy bueno. Todos siguieron el ejemplo y consiguieron ejecutar la aplicación que hicimos con MonoDevelop, un pequeño "encriptador". Gracias a Berto y Choms que estuvieron de apoyo y al los asistentes por estar tan atentos.
Algunos hasta ampliaron el programa. Me sorprendió que siendo tan jóvenes tuvieron tanto nivel. Parece que MonoDevelop gustó bastante a pesar de que teniamos la version 0.14 que es la que hay para Ubuntu y que petaba de vez en cuando. La version 1.0 lleva meses fuera pero sólo está para Suse 🙁
Gracias a Innova7 por invitarnos y cedernos un stand, a Rodrigo por su energía y a mis compañeros Quique, Carlos, Ancor y Pablo por la puesta a punto de las máquinas.
La Oficina de Software Libre de la ULL tendrá un stand en la TenerifeLanParty de este 2008. Por motivos de trabajo, de miercoles a viernes estaré por allí ayudando con los talleres y el jueves a las 16h me han colocado un taller de Lenguaje C# y Mono que impartiré en caso de que hayan suficientes asistentes. Basicamente aplicaciones de escritorio Gtk#. Por experiencia en este tipo de eventos imagino que no habrá público en los talleres porque la gente suele ir a jugar a videojuegos. Para dar conferencias o talleres técnicos con éxito hay que ofrecer comida gratis, poner los horarios con mucho tiempo de antelación, darle mas publicidad y estar avalado por una firma grande como Microsoft, Sun, IBM, o alguna de estas. Y si ademas se cobra una buena pasta por la entrada, entonces ya es la bomba.
Pero bueno, allí estaremos para echarnos unas risas.